a journey to Taiwan II.
The trip to Taiwan brought me a new insight into a dimension of the tea phenomena. I had expected another trip where new contacts for tea bussiness will come up. There were some but most important thing that changed in my life, w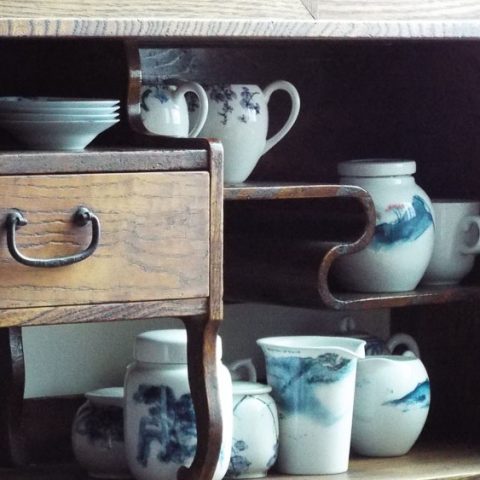 The trip to Taiwan brought me a new insight into a dimension of the tea phenomena. I had expected another trip where new contacts for tea bussiness will come up. There were some but most important thing that changed in my life,  was a new way of treating tea and its ´componets´.
We met this guy, this old man, full of energy, a very unique man. He had his own manners, all artists are unique, do not expect them to behave in an usual way. This guy at his retirement was painting, making paintings on porcelain cups, jars, vases, very traditional chinesse paintings, he follows traditional chinesse sketches and motives, either copying them from old books or making up his own ones based on real nature scenes.
I had never been a big fan of these white porcelain cups and gaiwans with blue paintings. They seemed to me all a kind of trash and fake, factory  mass production with no artistic value. A good one for basic office drinking tea or for travels.
We came to have tea with this old man, talk about tea and maybe to get some contacts of tea farmers. We sat down at his top roof flat, crammed with all kinds of stuff. Welcomed with a mixed feelings of this man, with interupting and warm flow of words, got seated and started to drink tea. Going from one to another, your senses start to notice more things, more subtleties, more details, more aromas and subtle taste notes. The mind is more focused and also relaxed.
One of the old man's style of preparing tea was to taste each kind of tea, probably each brew before pouring to his guests. A kind of chef´s style of one spoon tasting before finishing  a soup. He's got his own tools, some made, some acquired in different ways. Taiwanesse tea culture is influenced by japanesse heavily but still it seems they keep to their own, modified style. More relaxed, every one keeps his own way with its unique character.
If I am just thinking about an art piece, what is it, how to define it, is that a perfect copy of a beautiful object, does not have to be. It is a thing that you have a pleasure to look at, a pleasure to touch, turn it different ways and find new a new things that pleases your eyes, your senses. Such thing won't bother you, never, each time you sit down, having a cup of tea, a glass of wine, you feel the beauty and you admire it, you never regret it, not even have a thought of a regret about acquiring such object. Could that be a tea, simple leaves brewed with style and nice utensils? Yes, it could be.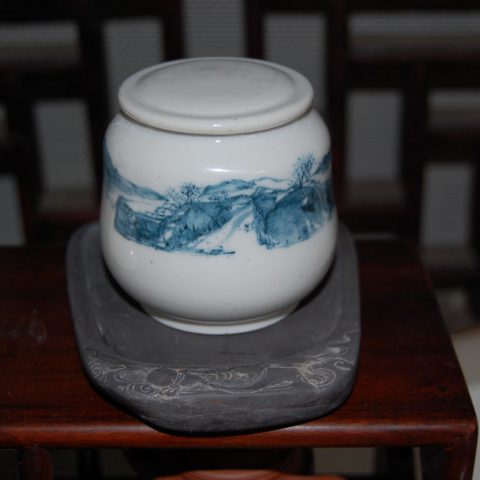 After a few cups, later a lot of cups, you start to notice, hey this guy has many interesting things on the table. A piece of ceramics (maybe just a piece of stone, a gravel) to put the lid of the gaiwan. A branch to put his tools all necessary tea tools on, a metal thing that looks like a shoehorn but used for sift dry leaves into a tea vessel, a few wholes in the middle of the tea table that lead away the waste water. You start to notice the things he has got on the shelfes, walls around. All are beautiful.
The chatting goes on, so the teas get changed, sometimes we return back to previous teas. This habbit or way of drinking tea we have noticed in Taiwan. You taste let's say three teas in a row and then you return to the first one, brew it, then go for the forth one, go back to the first and interchanging of different teas pretty much trains your toungue and mind too. Stay focused (which tea are we drinking now?) and at the same time enjoy.
I got a gift of two white and painted porcelain tea cups from this man. I started to use them after I returned back from Taiwan, it is almost two months now. These cups are flawless, have their weight, a perfect shape but the most important thing is that I love to drink tea out of them. I like to hold them in my hands, I like to touch them, I like to smell them. They  are snow white with little blue paintings on them.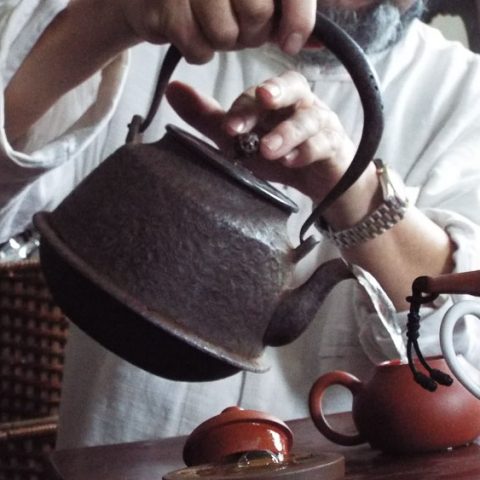 Taiwanesse tea culture takes on its own shape and way. Very relaxed and still paying attention to details. One of the teas we had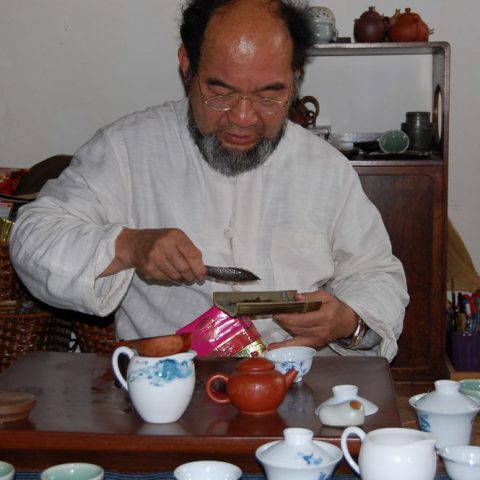 at this man's table smelled a bit like a rose during one brew. He sent his wife to bring a rose from his terasse and we all were comparing and the rose and the tea. Very nice experience.
A cup of good tea drank with friends is like a pleasurable memory of your childhood experience. A warm, clear, just that memory, it is just like opening your eyes after you fell asleep on a green meadow.  All is very clear, all is just like to have to be,  no thoughts only direct experience of present being.