What is pu-erh.sk about?
Have you ever been blown away by a single teacup? A cup that you are able to admire a whole day.
Have you ever been blown away by a single teacup? A cup that you are able to admire a whole day. A cup that is soft once the lips touch it. A cup that gives an amazing tea. A tea that you were sure about that is good but still you were not able to get most of it. The best of it.
It is not merely the cup, the tea, the other tea utensils. It is the right moment, the right humidity, the settings of the mind.The things have their souls. The energy, the unseen phenomena, the thing that is planted in them while they were created. If a thing is made by a machine, by people that do the jobs because of their earnings, they do it without a mind set to create something with love. These words might sound to many of you as phrases as something that is abstract, something that is only made up.
I go to eat some places, in one place I love the food, the energy of it, then I go other time to other place, where they make similar food, even better looking, more varied but still it is only a food, it does not contain the energy I get from the first place. Why is this? Is the chef different from the other? I do not think we need to rationalize at this point, to describe in our western style, to give it a proof, to give it a technical explanation… No, there is enough to feel it.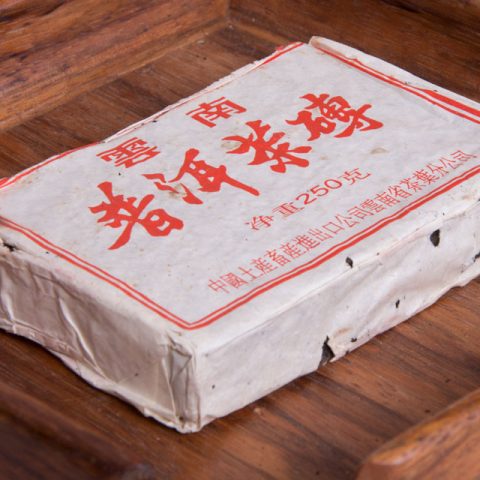 I have just been drinking today this 1992 aged sheng pu-erh tea that I offer in my web shop for 139 euro for a brick of about 250 grams. You see such brick on sites like aliexpress. Go and try them and see yourself. I used to do so but I stopped as I am more and more scared of such teas. The tea I get is from a man I trust, a man that I respect, a man who loves tea, a man who is passing over its skills to others. Anyway this tea or any other tea from my web shop are colourfull beasts, chameleons that are looking good and evening tasting good.
The art is to get the most essence of them, the true soul, their core, their happiness. In many case, speaking out of my experience, using various tools, in various enviroment, with different settings of the mind, each time you get a different feeling, even taste and aroma. You may blay me what I sold to you that but its all about the correct settings. Even the phase of the moon may effect it. I do not know much about this but I know, again from my personal experience, that there are simply good days and bad days.
Let's go back to this cup, a cup made by Stefan Andersson. It is sold in a box of two, with other different cups for around 200 euro a box. I have liked Stefan's teaware from the start I discovered him on internet. When you see thousands of ceramic pieces you start to develop a skill of seeing even from a photo a thing that is not ordinary but let's say extraordinary. When I first touched his cups I was amazed by the feeling, by the softness, by the precision they were made. The firing makes a great deal on of them too, next to Stefan fingers, they create simply perfect pieces. This is a nice word, a perfect, but what we can do with it?
Put in on a display and admire it? It is not worth of 100 or something euro. Do a tea out of it, touch it, caress it and drink tea. You just then realize its hidden value. The same I experienced today, I would be able just boil and boil more water and drink this old sheng pu-erh. The cup that hides the whole world in it and on top of that the feeling that Stefan put in it when making it. The feeling that you feel as good, as something that makes your heart calm, satisfied, in the same time bright and your life gets the meaning, your tea gets the higher position on your shelf.
I am just testing now tea stained linen cotton chabu from a guy from Norway. One might say a piece of rumpled stained rug. Yes, it is, a hand made, hand trimmed high quality piece of fabrics. The teaware is looking great on, exactly the style I like. You see its coarse texture of it, you touch it and you like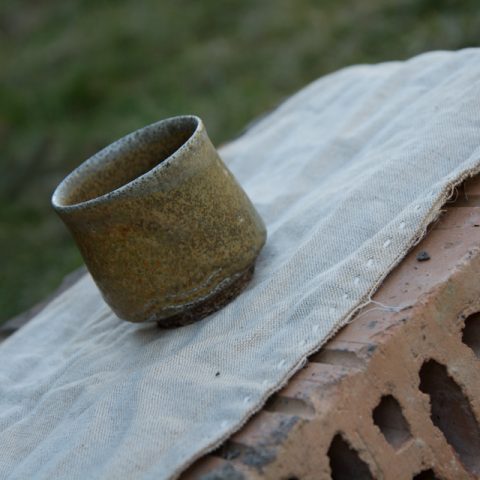 the feeling, you put your teaware and you realize that's it, you got a perfect table, a background for your painting, a perfect chabu, a tea table cloth that you may use for packing your teaware too.
Some days ago I received a few pieces from a danish potter Inge Nielsen, I spotted her pieces on IG and thought to ask her to check them in 'real time'. Had a feeling that this shiboridashi will work fine with an aged sheng so I tried. It worked very well. The vessel is very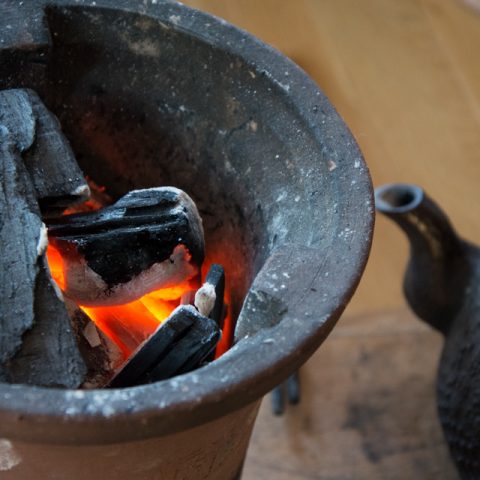 well made, it's surface well smoothed, the clay reacts well with the tea. A perfect pot on the tea stained rug.
The tetsubin the iron kettle boils its last round of water. No more charcoal, no more tea, all things has their beginning, middle or peak and decline and an end. I am glad I decided to test this tetsubin, it gives mellow, very pleasant water, especially realized with this old sheng. The kettle is light, light compared to others that are heavy and rather more robust. It was worth traveling to Japan, visiting  metal workshops and see how they are made. The old traditional way as it used be. I love old traditions, the ways of creation of things with hands and a heart. Buy one kettle instead of 5, use things that have souls, the things that will last your life time. You do not need to upgrade these things, like your mobile phones and notebooks.
I thought to write these few lines to let you know what pu-erh.sk is about.