It's tea that matters
It's like tasting a carrot grown in your garden compared to a one bought in a supermarket. You know the taste, you will remember it and have it for your life.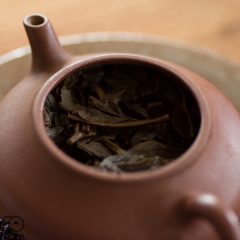 I thought today write a few lines as I was tasting this stone like brick of Big Green Tree Yiwu 2011 made by Liming state owned factory. This brick is made of old tea leaves that were not rolled well or simply were bad looking leaves and people who this tea was made for appreciated this tea leaves material so much so they asked for it and have it made into 500 grams bricks. They even mix into these old tea leaves crab's feet herbs.
They intended to use them for the cakes but there was not enough of them. I think they made a good decision as I started to like them more and more in cakes that have a small percentage of crab's feet. There are other cake like Tong Qing Hao 269 in the offer. This Chinese medicine herb gives tea a special character, it feels like tea is thicker and has better ageing progress.
The other reason for writing about these cakes was that yesterday afternoon, after tasting various teas from various sources for three days I thought I need something genuinely good so I brewed 'Qiaomu gushu' 2005 that I had some few grams in a pack nearby. It made me again pretty sure that these teas are worth of their price. They are what high-end 'classical' first class pu-erh is about. Even now about 15 hours later I brewed this tea from yesterday afternoon and it still has its character and a 'good taste'.
Gradually pieces of this puzzle coming together and painting a more clearer picture in my mind. If you notice cakes wrappings simply saying 'Yunnan Yuantea of ageless arboreal tree" or "Wild tea tree of Yunnan". No specific name of a place, that can be found on an inside paper more specifically. There is no names like shouting out 'Hey I am the best of Lao Banzhang, Yiwu and JingMai the purest oldest 300 and hundred years of old tea trees'.
Also the tea lovers who had these teas made were not keen on have tea cakes made under their brand, I think they do not have a brand even now. What for? They and their friends wanted to drink the best, purest pu-erh teas. Made long term relationship with people of Liming factory, have selected the best available material, have their cakes made and bought them all. Waited long years before offering them outside, followed the classical way of processing, based on old recipes.
I met more of these people last week, not in their shops, but in a private tasting room that also had a place for children to play. A place where these people meet and drink good tea. These people are now over 60, the most retired from their jobs remembering times they traveled to Yunnan to learn about and find good teas.
I personally learn more and come back again to the fact that knowing the complete C.V. of teas I drink is very important. Trusting and knowing the person I get from is the first most important thing. Even if I have this prerequisite my taste buds and body and mind feelings will confirm if the tea is good or not.
It's like tasting a carrot grown in your garden compared to a one bought in a supermarket. You know the taste, you will remember it and have it for your life. This is how a carrot tasted like when I was a kid. I did not made any effort to remembering its taste it simply stuck in my mind ' in memory of flavours'.